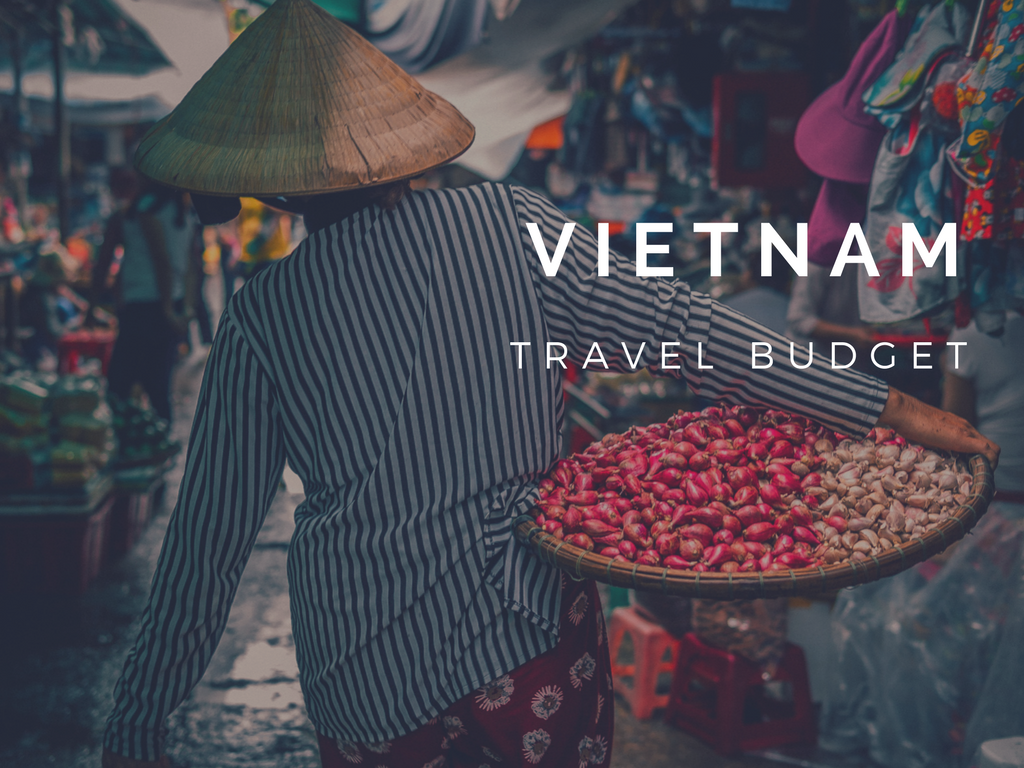 Trying to figure out how if Vietnam is expensive and how many dong you need to bring? You'll be pleased to hear backpacking in Vietnam is not expensive. We travelled from Hanoi to Ho Chi Minh City, the whole length of the country, on a budget. We're going to share our insider Vietnam travel budget tips with you!
---
How Much Does it Cost to Travel Vietnam in 2019?
2 Weeks in Vietnam Cost: $336 / £256 / €300
Daily Travel Expenses in Vietnam: $24 / £18 / €22
---
This was our travel budget for two weeks backpacking in Vietnam. This includes accommodation, 3 meals per day, local transport and activities. This travel budget does not include international flights.
Note: Vietnamese Dong is expressed in large denominations. In the infographic below, Vietnamese Dong is shortened by three decimal places. For, example 10,000 VND is shown as 10 VND and 100,000 VND is shown as 100 VND. 

---
Costs in Vietnam:
Here is a breakdown of the average costs per person for daily expenses and for big activities.
Everyday Expenses in Vietnam:
| | |
| --- | --- |
| One night in a budget hotel (double room) | $11 / £8.40 / €10 |
| Transport between towns | $5 / £3.7 / €4.2 |
| Lunch/Dinner at a local Vietnamese restaurant | $2.2 / £1.6 / €1.8 |
| Bottle of water | $0.3 / £0.22 / €0.25 |
| Vietnamese coffee | $0.8 / £0.6 / €0.5 |
| Local beer | $0.9 / £0.7 / €0.8 |
Big Expenses in Vietnam (per person):
We travelled from the north to the south of Vietnam over 24 days from November – December. We stopped off in a total of 10 places: Hanoi, Halong Bay, Sapa, Hue, Hoi An, Dalat, Yok Don, Nha Trang, Mui Ne and Ho Chi Minh City.
Our full Vietnam backpacking route from north to south can be found here if you're interested to see our exact travel route.
---
Budget Accommodation in Vietnam
As a couple, we found that a double room in a guest house was cheaper than two single beds in a dorm room. Travelling solo may mean a slightly increased cost for accommodation. However, you can still get very cheap dorm beds and sometimes hammocks, if you're not fussy about your hostels.
Budget accommodation is generally of an okay standard. Sometimes we had ants in the room and sometimes bare floorboards. We found that the bathrooms were always clean. I should say that we're not fussy about our travel accommodation, as long as it's clean and there's wifi. Many places also throw in a breakfast of banana pancakes as well.
Where We Stayed in Vietnam
1st Thu Giang Guesthouse
Hanoi
This guesthouse was recommended in Lonely Planet. It was a basic guesthouse which is owned by a husband and wife couple. There's 1st Thu Giang Guesthouse which is looked after by the husband. Around the corner is the cleaner and more orderly 2nd Thu Giang Guesthouse, run by the wife. The place was cheap and we liked it. The only downside was the smell of wet dog in 1st. We paid $7.45 per night.
Luong Thuy Family Guesthouse
Sapa

We struggled to find anything

 

really

 cheap in Sapa. 

We picked this lovely guesthouse because it had a hot crackling fire and it was freezing cold outside

! 

This family guesthouse was homely and warm. Rooms are quite large. At the very top of the hotel is a tiny, wooden breakfast room selling hot bowls of noodle soup. It has an incredible view of the rice terrace. We paid $16.80 per night.
Hoang Huong Guesthouse
Hue
There's a small alley of budget accommodation in Hue, including Hoang Huong Guesthouse. When we were there, the guesthouse was run by one very little old lady. She was really welcoming and smiley, and made us banana pancakes for breakfast. The downside here is that the rooms have some damp walls. We paid $6.73 per night. Unfortunately you also cannot book online.
Hop Yen
Hoi An
Hop Yen is an immaculate looking hotel downstairs but there are much cheaper rooms the further upstairs you go. We stayed at the very top in the attic rooms which were all bare floorboards and a crappy shared shower room. The plus side was that it was our cheapest accommodation in the whole of Vietnam. We paid $6.91 per night.
Stilt Houses
Yok Don
Accommodation options are limited in Yok Don. These local-style stilt houses are next to tourist information (and sadly also the chained up elephants that are poorly treated) are located. The houses themselves are basic with just a mattress on the floor, but they have a nice view of the field and it's an authentic experience. We paid $6.73 per night.
Zen Valley Dalat
Dalat
We heard about Zen Valley after we left Dalat and wished we'd heard about it before! Other travellers said this hotel was peaceful and beautiful with lush views of the mountains.
Ngoc Thao Guesthouse
Ho Chi Minh City
Our most expensive room of the trip was in Ho Chi Minh City. We booked online before arriving because we wanted to be sure about where we were staying the night before our flight. This guesthouse was absolutely immaculate, comfortable and run by a really lovely family. We paid $19.91 per night.
Most Expensive Sleep: Ngoc Thao Guesthouse in Ho Chi Minh City – $19.91 per night
Least Expensive Sleep: Hop Yen in Hoi An – $6.91 per night
---
Should I Book in Advance?
When we turned up in Hanoi, we had booked only our first and last night's accommodation and nothing else. We heard it would be cheaper to get accommodation when you were already in the country because haggling over prices is common. Turns out this was true!
It's better not to book in advance because you can get a better deal by negotiating in person when you arrive. You have to barter for your accommodation, but you'll find prices are always cheaper in-person than on online booking websites. Prices are not fixed in Vietnam!
It is common for travellers to book their first night or two nights before arriving. This is to avoid having to negotiate as soon as you step off the plane. Be careful on your first day as you may not yet be used to bartering. Locals may realise that you don't yet know what a fair price looks like. When you're tired and hungry, you're more likely to pay above the odds.
It is also common for travellers to book their Halong Bay tour in advance, especially if you're travelling in high season. It's also important to read reviews online and to be sure you are travelling with a trusted tour agency. I recommend booking through Get Your Guide. They feature local tour agencies with customer reviews and often provide cancellation cover.
---
Transport in Vietnam
We mostly travelled by sleeper bus because it's the cheapest option. I have to admit that it's definitely not something I would do again. If you're thinking about taking a sleeper bus, How to Survive Vietnamese Sleeper Buses in Vietnam is an essential read. We travelled by train on a few occasions as well and it was much more pleasant and comfortable. The price is only very slightly higher, so it's worth looking into.
You can also save money by booking buses and trains in advance. Avoid booking via your hotel and hostel if you can as they may add an extra markup to take for themselves. Instead, go straight to the bus station or train station to book your tickets.
---
Eating on a Budget in Vietnam
Vietnam is a top travel destination for food lovers, even if you're on a budget. If you want to eat cheap and keep the cost to travel Vietnam down, stick to local Asian eateries and street food.  We had a lot of delicious and cheap vegetarian street food. That said, beef noodles are the most commonly found. Noodle soups, rice and crusty bread rolls are the most common Vietnamese dishes.
Food gets expensive if you plan on trying to eat in more tourist-orientated restaurants or any Western food establishment. Avoid Western food as it is always over-priced and won't be anything like what you're used to at home. Plus, Vietnamese food is incredibly delicious. I'm not sure why you'd ever want to eat Western food over it anyway!
Most Expensive Eat: Tamarind Cafe in Hanoi – $16.80 for two people
Least Expensive Eat: Breakfast rice with shredded coconut from a street vendor in HCMC – 91¢ for two people
---
Budget Activities in Vietnam
You'll read that there are a lot of "must-do" activities in Vietnam. At the top of that list are a Halong Bay cruise and a Sapa trek. We did both a Halong Bay cruise and a Sapa trek and loved them. However, a "must-do" depends on what activities you most enjoy whilst travelling. For Halong Bay trips, make sure you shop around and haggle well. There are loads of tour operators out to rip tourists off so it's important to compare prices.
Despite not being one of the "must-do" activities in Vietnam, our favourite activity was a Vietnamese vegan cooking class in Hoi An. There are loads of great cooking classes in Vietnam. We learned to make different vegan versions of Vietnamese food and cooked with local produce.
If you want to keep the cost to travel Vietnam very low, then there are lots of free activities. These include visiting temples and pagodas and walking around the city.
On a side note, unethical elephant riding is a problem in Vietnam. Many elephants are mistreated and worked too hard in poor conditions. Don't include this in your Vietnam activities.
Most Expensive Activity: All-inclusive 2-day Halong Bay cruise – $110 per person
Least Expensive Activity: Ticket to the temple on the lake in Hanoi – 45¢ per person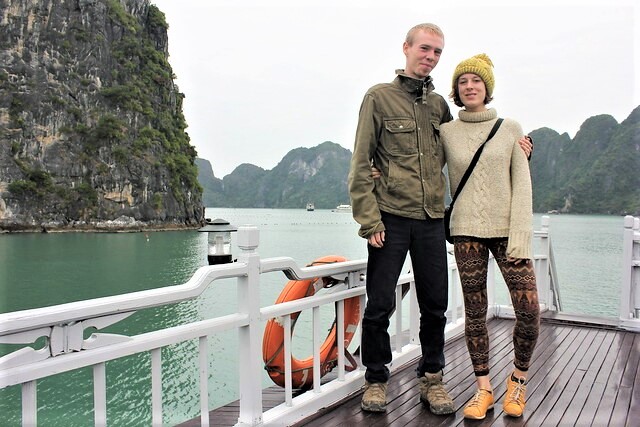 ---
What I Didn't Include in the Vietnam Travel Budget
ATM withdrawal charges, gifts for our families and clothes we had tailored in Hoi An are not included in this Vietnam travel budget. These expenses are non-essential and would give a skewed perspective of the cost of travelling in Vietnam.
If you want to keep the cost to travel Vietnam down, then I'd recommend avoiding buying any tailored clothing in Hoi An. Souvenirs tend to be cheap but costs can easily stack up depending on how many people you want to buy gifts for!
Gifts for Christmas: VND 560,000 ($25.72) on 5 gifts
Tailored clothes in Hoi An: VND 2,380,126 ($110.18) on 1 pair of boots, 1 pair of jeans, 1 skirt
ATM Withdrawal Charges: £31.50 (£5 / $8 per withdrawal, maximum withdrawal of £86 / $138 per day)
---
Haggling in Vietnam
Vietnam is probably the tightest travel budgeting we've ever done. We kept track of our expenses meticulously and bartered for absolutely everything. We haggled especially hard to get cheap deals on our accommodation.
Don't forget that in Vietnam, you must haggle. You should haggle for accommodation and buying souvenirs, gifts and clothes. Bartering is all part of the 'fun' in Vietnam – it's the way that local people do things. Always approach haggling as a friendly exchange. Steer clear of being aggressive (because that's no fun). Some Vietnamese are more harsh with their haggling. Remember that nearly everyone in Vietnam is selling the same goods, so if one person is too tough or unpleasant to haggle with then just move on.
When you're haggling, you can usually aim to get the price down by about 25%-50% of the originally quoted price. Sometimes you can get this down much further on items like clothing and accommodation – it all depends on how high they start! It's a good idea to engage in haggling for the same or similar item with a couple of different people. This will give you a better idea of whether the price they are offering you is a fair one. Bear in mind that you should be looking to pay a fair price. The Vietnamese will be much worse off than you and often appear brash because they really need the money to get by.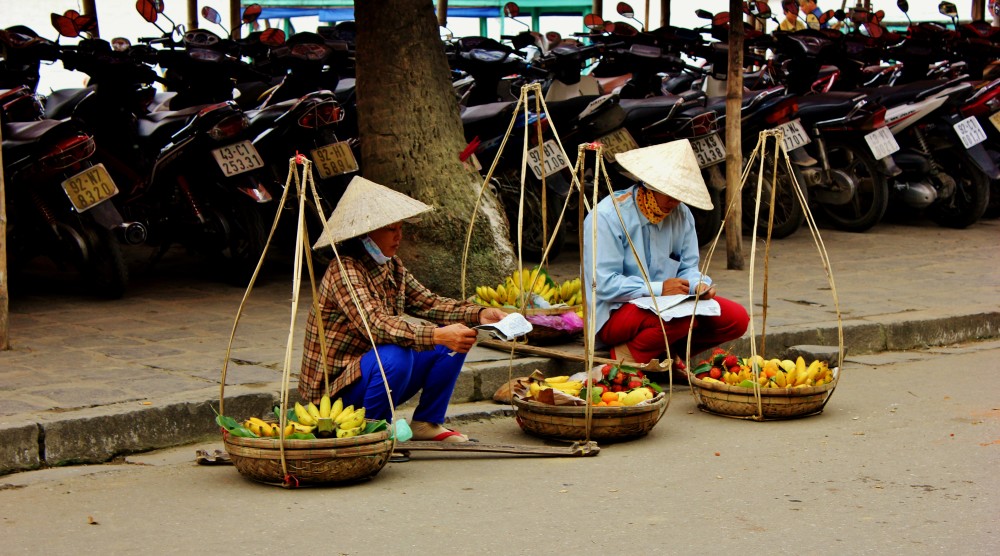 ---
Is Vietnam Expensive?
For most travellers, Vietnam is not expensive to travel. Travelling Vietnam is cheap if you pay attention to your travel budget and haggle well. If you're interested in moving to Vietnam as an expat, then read our article on the cost of living in Vietnam.
Vietnam is an incredible country to travel if you're looking for a rich cultural experience but have a tight travel budget. This is one of the reasons that Vietnam continues to attract so many backpackers. Travelling in Vietnam is easy because there is a strong tourist infrastructure in place for backpackers.
Vietnam is one of our top budget travel destinations still today!